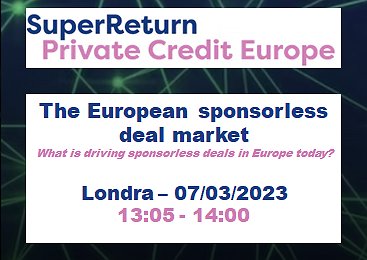 SuperReturn Private Capital Europe
From March 7, 2023 - at 1:05 p.m. to March 7, 2023 - at 2 p.m.
Location: London
On 7 March Andrea Pescatori, CEO of Ver Capital, will participate in the prestigious european event that brings together the main players of private capital in Europe. The meeting organised in the prestigious location of the Hilton London Bankside's hotel will be an opportunity for over 400 market players to discuss the main Private Capital issues.
The CEO will have the honour of representing the only Italian asset manager at the event invited as a panelist at the two-day conference. The session he will participate is entitled "The European sponsorless deal market - What is driving sponsorless deals in Europe today?".
Read here the full programme:
https://www.vercapital.com/media/pdfplugin/sup/super_return_private_credit.pdf