Our Principles
​
Focus on Credit. In a world where asset management business is becoming more and more de-specilized, we believe that it is vital to be focused on specific asset classes. At Ver Capital we keep focus on credit products via a variety of funds and investment programs.
---
Capabilities that make us different. The fundamental analysis processes applied to the assets in which we invest represent a significant added value that we have built up over the years and which we place at the service of our investors.
---
Independence. Ver Capital is an independent management company with a wide range of institutional investors on its funds. At Ver Capital, investment decisions are based solely on objective judgment factors.
---
​​Excellence of our Team. The Team is the beating heart of the company. At Ver Capital, we believe in the highest standards of ethics and professionalism, and we are continually seeking the best talents to maintain and improve our distinctive capabilities.
---
​​Focus on Clients. Our investors are our principal asset. Our investment funds operate in specific areas that meet the specific needs of our investors (for example, absolute return, recurrent cash distributions and ad hoc investment classes).​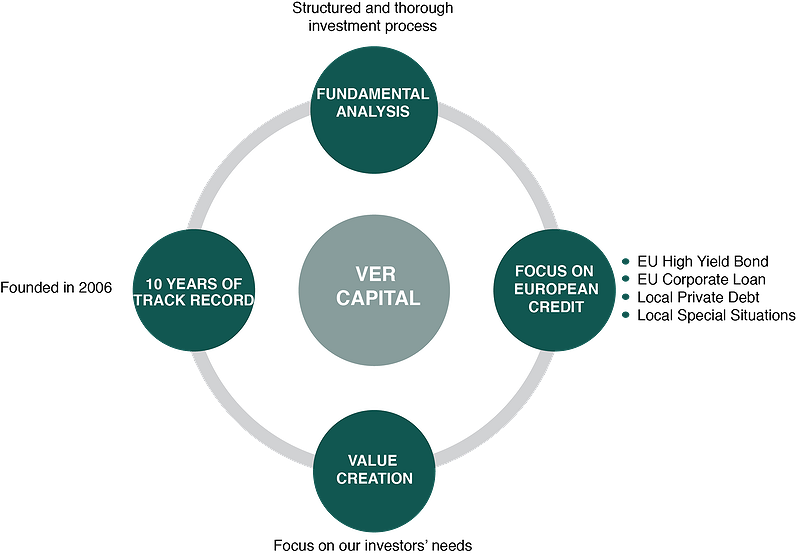 Our history
2005
Ver Capital is established.
2006
Closing of the first closed-ended fund, Ver Capital Mezzanine Partners (VCMP), mainly dedicated to senior and subordinated leveraged loans.
2007
Closing of a medium term credit facility for the VCMP fund.
2010
Closing of the second closed-ended fund, Ver Capital Credit Opportunity Fund (VCCOF), mainly dedicated to senior loans and high-yield bonds.

Closing of a medium term credit facility for the VCCOF.
2011
Launch of Ver Capital Credit Fund, an open-ended fund UCITS IV compliant, through the Luxembourg Sicav Nextam Partners, focused on Euro denominated high yield corporate bonds.
2014
Launch of Ver Capital Credit Partners IV (VCCP IV), mainly dedicated to senior secured corporate loans and senior secured European high yield bonds.
2015

Start of the investment activity of the VCCP IV.

Closing of a medium term credit facility for the VCCP IV with one of the main global investment banks.

2016
Launch of the Ver Capital Credit Partners Italia V with the participation of relevant institutional investors such as the Fondo Italiano d'Investimento
Corporate Governance
Ver Capital Sgr is an investment management company authorized by the Bank of Italy to manage closed-ended and open-ended funds. Since 2011, Ver Capital has been operating as a delegated manager in Luxembourg.

Control systems: in addition to accounting and regulatory monitoring by external and Statutory Auditors, Ver Capital activity is constantly supervised by an Internal Auditor, a Compliance Officer and a Risk Manager. who oversee and control front office, middle office, and back office operations, in addition to line control and management supervision.

Ver Capital corporate governance is based on a "checks & balances" system. Its goal is to ensure a proper balance between the independence of the management team and the line control supervision provided by the Board of Directors.

The Board of Directors is responsible for establishing the company's corporate strategies and the strategic lines of the funds under management, while the Investment Committee selects the assets for the closed-ended funds and defines the asset allocation of the open-ended funds.

In compliance with Art.35 (1) of Legislative Decree No. 58/98, Ver Capital Sgr is registered in the OICVM Register under number 46 and in the FIA Register under number 80. Ver capital was already previously registered in the Register of Investment Management Companies under number 210, ID code No. 152348.