Overview
Ver Capital operates via a closed-ended funds platform, mainly investing in European leveraged and corporate loans and via open-ended funds platform with daily NAV, mainly investing in European high yield corporate bonds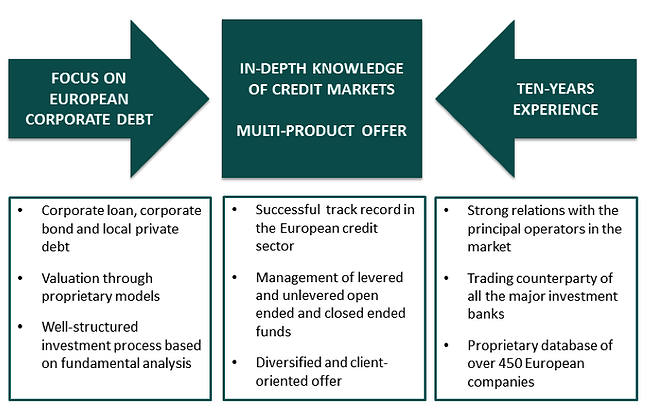 Ver Capital, a trading counterparty of all the main investment banks, has been investing in the European corporate loan and bond market for the last 10 years and, is able to apply European best practices (credit analysis, structuring, security package, contractual features) in its asset management activities for both open ended and closed ended funds.
The analysis of the assets in which Ver Capital invest follows a rigorous structured process based on macro and fundamental analysis, validated by a rating agency and by due diligence carried-out by independent advisers.
Fundamental analysis is carried–out through a dynamic approach always based on strong diversification and, for open-ended funds, by an active management of yield to maturity and volatility of single assets too . The constant portfolio monitoring allows the adjustment of the asset allocation in order to maintain a fair balance between risk and reward. For this purpose, relative-value analysis are continuously done both on a single name basis and by sector, rating and maturity class.
European High Yield Bond
High yield bonds are debt securities issued by companies with a rating below triple B. Such sector (and especially the B-BB segment) represents in Europe the rating class of the vast majority of industrial companies. The steady growth of this market in the last years is mainly attributable to the progressive use of capital markets as a way to finance companies and, considering the disintermediation process arose from the implementation of Basel 3, it is reasonable to say that this sector will continue to grow significantly during the next years.
The considerable growth of the European high yield market (ex-financial, namely excluding securities issued by financial institutions) during the last years, allowed this market to be considered as an asset class in its own right, now included in the portfolio of the main institutional investors.
Ver Capital High Yield Italian Selection
European Corporate Loan
Corporate loans are often referred to as leveraged loans when initially associated with leveraged buy-out operations. They are floating rate instruments with a reward given by Euribor plus a spread which is the expression of the credit risk of the issuer.
Senior secured loans, English Law, LMA (Loan Market Association), are considered the safer assets within the sector and are typically characterized by:
- High degree of information rights (at the outset: information memorandum, business/fiscal/legal/financial due diligence; overtime: monthly and/or quarterly reports, and most importantly, forward looking information, including business plans);
- High contractual protection and control rights (contractual covenants checked on a quarterly basis);
- Security package. The Collateral typically includes tangible and intangible assets of the borrower and share pledge;
- Voting rights aimed to protect minorities .
The loan secondary market has grown and is more and more structured, with indexes, dedicated platforms (i.e. Markit) and daily quotations from all the main investment banks.
Funds managed by Ver Capital mainly investing in European corporate loans:
Ver Capital Credit Partners VIII
Ver Capital Credit Partners VI
Ver Capital Credit Partners IV
Ver Capital Credit Opportunity Fund
Private Debt
Along with European high yield and European corporate loans, Ver Capital is active from 2006 in the Italian private debt market.
The development of the Italian private debt market has reached new highs in recent times, both in terms of size and in terms of innovation of the instruments. Recent evolutions of the regulation have simplified the bond issuance procedures for non-listed SMEs, aligning the financing opportunities of the Italian companies to those of the more advanced European industrial and financial systems.
Funds managed by Ver Capital mainly investing in local private debt:
Ver Capital Credit Partners Italia V
Ver Capital Credit Partners SMEs VII
Mezzanine finance
Mezzanine debt has some features of the senior secured debt and some of the equity. Usually it's not secured by collateral and it's frequently defined as subordinated debt, thus giving the right to claim on the company's assets only once senior investors have been satisfied.
Mezzanine debt is usually used to finance recapitalizations, expansion projects and leveraged buy-out.
Returns are typically composed by a cash component and a "PIK" (Payment in Kind) component. In some cases, for more risky operations, mezzanine investors can be provided with an equity kicker in order to boost the potential return of the investment.
Special Situations
Investing in special situations means implementing industrial and financial turn-around operations for companies in financial distress but still with the potential to recover through an organizational, industrial and financial restructuring operation.
Within this context, Ver Capital's aim is to mainly address those companies in a financial stress condition or with limited industrial criticalities by investing in the more appropriate instrument based on a case-by-case evaluation (super senior debt, subordinated debt, equity etc.). The purpose is to combine different kinds of instruments (equity and debt) for each operation in order to maximize the risk/reward ratio and obtain higher return if compared to other fixed income instruments by maintaining a lower degree of risk if compared to an equity investment.
Please don't hesitate to contact us; if you need additional information on Ver Capital's strategy, we'll get back to you as soon as possible.